In Memory
Shunkahanakapi--"Grave of the dog"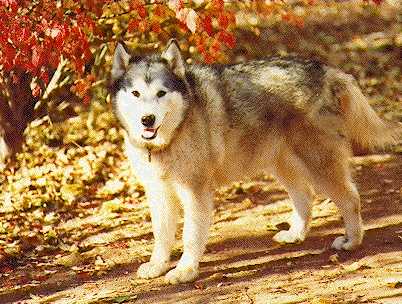 Kiwalik's Apollo
12/83-3/93
(Ch. Nomarak's Kenworth R.O.M. x Ch. Kiwaliks Miacis of Nerak R.O.M.)
A Malamute Dog
by Pat O'Cotter
You can't tell me God would have Heaven
So a man couldn't mix with his friends--
That we are doomed to meet disappointment
when we come to the place the trail ends.

That would be a low-grade sort of Heaven
And I'd never regret a damned sin
If I rush up to the gates white and pearly
and they don't let my Malamute in.

For I know it would never be homelike
No matter how golden the strand,
If I lose out that pal-loving feeling
Of a Malamute's nose on my hand.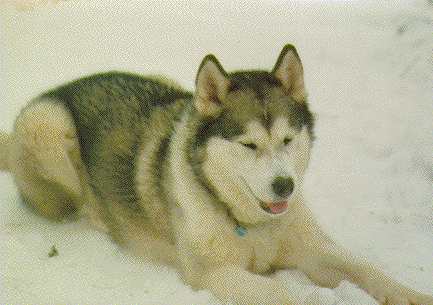 Contact us at KODAK Alaskan Malamutes; P.O. Box 26095; Arlington, VA 20115
Or by

This site was last updated: 25 MAY 2000
All copyrights of images and text are the property of KODAK Alaskan Malamutes and cannot be used without the express written permission of KODAK Alaskan Malamutes, with the exception that buttons are courtesy of